"Your perfect life awaits your discovery"
John Novello is an acclaimed jazz pianist/composer, best  
selling author, motivational speaker & elite "perfect life" mentor.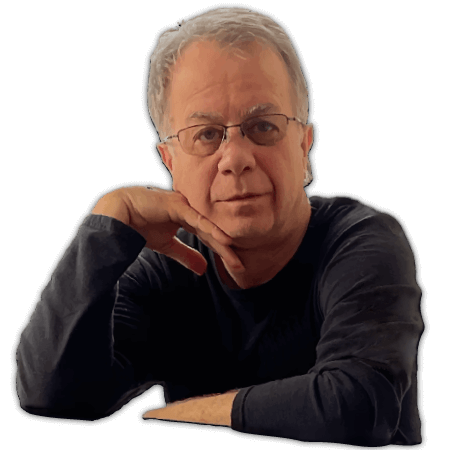 And Over 200 Other Media Outlets!
The Invisible Architect
How to Design Your Perfect Life From Within
What would it mean if your perfect life was awaiting your discovery?
What if you knew the exact steps that would allow you to discover and achieve this perfect life?  
And what if you had an Invisible Architect–an all-powerful all-knowing best friend at your beckon call to help you discover, design, and achieve your perfect life?
This is exactly what renown jazz pianist/composer/author John Novello offers in his book The Invisible Architect. It is a captivating story of the aspirations and cognitions of the life of a now famous jazz musician. Enlightening, inspirational, tragic and miraculous, The Invisible Architect is a spiritual manifesto for designing your perfect life from within; the exact process how our inner world creates our outer world. Not only does Novello share his exciting life and discoveries along the way, but he translates them into a practical self-help program that anybody can use to design their perfect life. 
 You will learn how your thoughts and beliefs are responsible for your current situation and more importantly how to improve any situation using the Be + Do = Have Formula!
In The Invisible Architect,  John further illuminates:
N

How to invite & connect to the Invisible Architect

N

The fundamentals of designing your perfect life from within?

N

What does it mean to have a "perfect life" mindset?

N

The secret to Be-Do-Have manifestation!

N

The Law of Cause & Effect
N

Guarding against the "Desire Thieves?

N

What are "Money Antibiotics"!

N

Mental Reboot Exercises

N

What is Spiritual Marksmanship?

N

How to use the Law of Thought Substitution
Praise for The Invisible Architect
"Jazz composers like John Novello think differently than the rest of us. In The Invisible Architect, Novello offers a unique and fascinating perspective on the almighty creator. By spiritually connecting with The Invisible Architect, he believes, we will feel enlightened and energized-and better prepared to architect our own lives. I felt educated, enriched, and inspired while engrossed in The Invisible Architect."
"John Novello answers the age-old question, are we ultimately alone in this world with a resounding no! In this absolute must-read, Novello shows us our soulmate and guide within that offers both a spiritual and practical blueprint for visualizing and claiming our fullest potential and dreams."
"Author/Artist, John Novello has used his amazing insights into the workings of the human mind to create an amazing narrative on how to live a life of no regrets! A must read for anyone who wants to tap their God-given talents!"
Shop for More of John's Books & DVDs
John has written the best-selling industry keyboard method, The Contemporary Keyboardist, published by Hal Leonard which includes three instructional manuals and three DVDs.
This comprehensive, 562-page method, called "Solid, readable and relevant" by Keyboard magazine and "The major work for today's pianists" by International Musician, is divided into four sections. The first, "A Philosophy of Music," deals with communication, cause-effect principles and practice disciplines. The second section, "Mechanics," covers all the basics of keyboard music and playing (notation, harmony, improv, sight reading, etc.), as well as their applications. The third section, "The Business Scene," contains guidelines and industry advice for contemporary keyboardists. Section four, "Interviews," provides insights into the artistry and technique of famous players such as Herbie Hancock, Henry Mancini, Edgar Winter, Keith Emerson, Paul Shaffer and many more. Includes an index.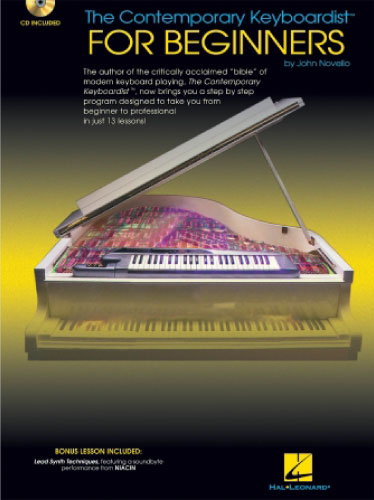 This book presents a unique organization and application of keyboard instruction materials to help the student gain the skills necessary to be professional and competitive in the music industry today. Rarely does an accomplished artist extend his musical passion to the area of teaching, but jazz composer/keyboardist John Novello is the exception. Novello began teaching in 1983, and released The Contemporary Keyboardist a few years later.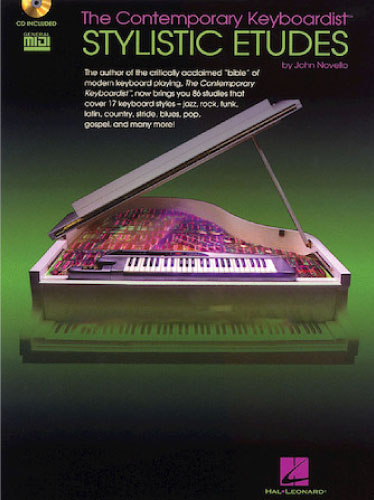 The author of the critically acclaimed "bible" of contemporary keyboard playing, The Contemporary Keyboardist, now brings students 86 studies that cover 17 contemporary keyboard styles – jazz, rock, funk, Latin, country, stride, blues, pop, gospel, and many more. This pack includes notes on playing, and both a CD and a General MIDI disk featuring recordings of each etude for the student to play along with.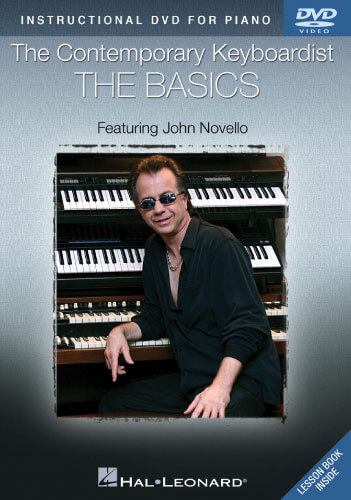 Learn the fundamentals of modern keyboard playing through the drills and examples on this DVD, designed to improve playing skills and teach basic concepts of theory. A booklet is also included which further illustrates basic music notation, scales, and harmony. Designed for the beginning to intermediate musician, this DVD will start the viewer on the way to becoming a serious player. The DVD covers: basic keyboard technique and exercises • basic musical terms, music notation and symbols • practice disciplines • ear training exercises • harmony. 1 hour, 14 minutes.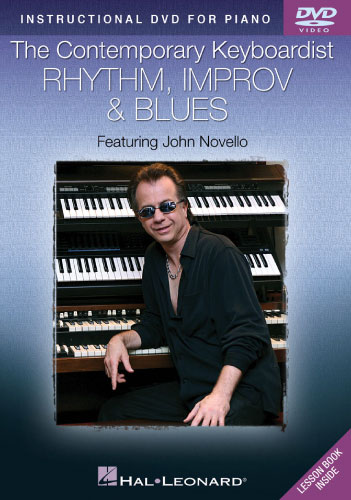 This DVD presents an informative and organized approach to rhythm, improvisation and blues. Exercises and demonstrations enhance the learning experience. Includes: playing in time • sight-reading rhythms • basic rhythms and their permutations • rushing and dragging • an innovative approach to the basics of improvisation • the blues and basic blues forms. Intermediate level. 56 minutes.